Cutting Tile
Talked to Dave yesterday. He assures me that the electricians will be in our house this week to finish up the wiring. He said it would take them 2 days. I think the time estimate is optimistic, but I'm hopeful that they can at least start this week. That would be great!
I started playing around with the tile for the deck of the jetted tub. I tried the score and snap cutter and found it to be a lot harder than I remember. It was hard to make the score evenly and the tiles weren't breaking cleanly. Perhaps it's this tile that's harder to cut than the ultra cheap Hell Depot tile I did in the old house. After fumbling with the score and snap cutter, I found it was easier to just use the snips to break off pieces of tile until I've shaped it to the right size. However, this took quite a while per piece and my snipping hand started to hurt. So, I went back to the Hell Depot and bought the cheapest wet saw they sell. It cost me $88. I was very skeptical, but I unpacked it, filled up its water reservoir, and made a couple small cuts. It works great! I'll have to see how well it holds up, but I think this is the tool for me. At this point, I'm hoping to have the tub deck tiled by the end of this week. We'll see.
I did order a faucet for the tub from
Faucets Fast.com
It's a relatively contemporary deck mount (Roman) faucet by Delta with a brushed nickel finish.
I like the brushed nickel. It's kind of silver colored, but a warmer tone than chrome. I will likely get more fixtures with that look. But, I'm not sure about ordering fixtures for the shower enclosures. There is already some kind of control built into the enclosure. I'll need to ask Dave if there is any limit on what kind of fixture I can buy for them.
I did look at the compression mount shutoff valves. Dave's right, it does look easy enough to install. I just need to make sure I get the right angle and the right pipe size. I thought our pipes were ½ inch, but after measuring them I think they are actually 5/8". If so, hopefully the Hell Depot has them in stock.
I haven't had too much luck with the light fixture orders. I ordered the front porch lights from Beaverton Lighting. They are a Maxim Lighting brand wall mount fixtures, craftsman style, with a cast-iron finish.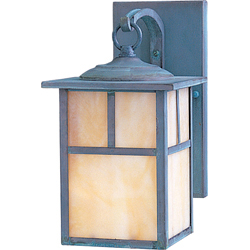 There will be 1 for each side of the door. They should arrive this week. However, the interior wall sconces I ordered from
Littman Brothers
haven't even been billed to my credit card yet. I ordered these over the internet, but they had to call me back to verify that I would pay the $20 shipping. On-line retailers that can't automate their shipping estimates? Geez. Because they still haven't billed my credit card I'm guessing that they haven't shipped. The sconces that I ordered from them are Minka Lavery, craftsman style, with a black-matte finish and they cost something like $40 each.
I only ordered 8, enough for the stairwell and upstairs hallway. I don't want to order any more until I see them first hand. If I like them, I may buy more (probably somewhere else).